Zhangjiagang HuaYi Imp&Exp Co., Ltd TopPack Packaging Solutions Ltd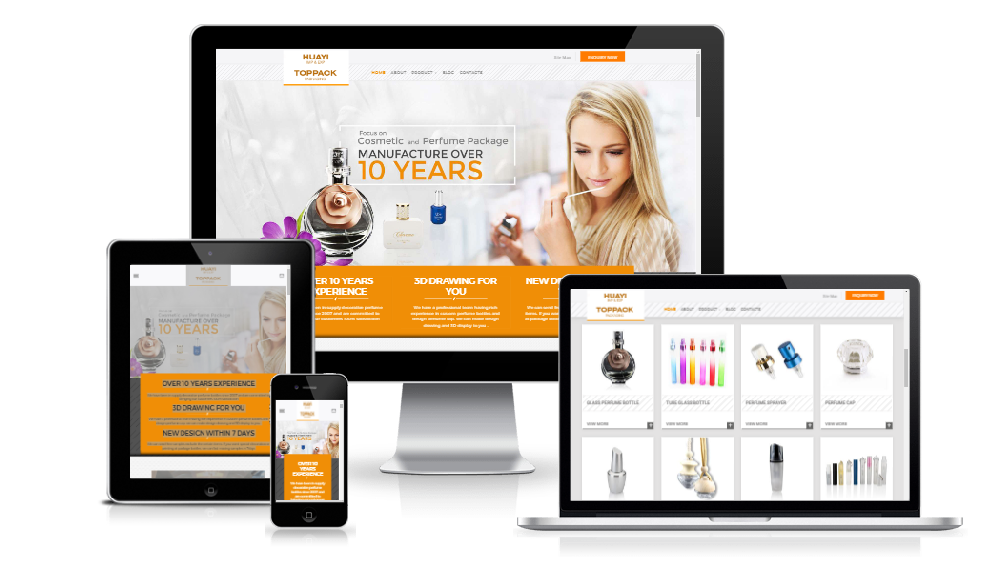 Our company specializes in manufacturing and developing cosmetic and perfume package related products which include pump sprayers, mist sprayers, dispense pumps, plastic bottles & caps, perfume atomizers, aluminum bottles, glass vials and glass bottles.
Why Top

Brand Trust Us

ODM OEM Welcome

More than 3000 kinds of sampling bottles

Products sold to over 60 countries and regions

Over 100 kinds new design every year

Any inquiries or trial orders will be greatly appreciated.



OVER 10 YEARS EXPERIENCE
We have been in supply decorative perfume bottles since 2007 and are committed to bringing our customers 100% satisfaction
3D DRAWING FOR YOU
We have a professional team having rich experience in custom perfume bottles and design perfume cap. we can make design drawing and 3D display to you .
NEW DESIGN WITHIN 7 DAYS
We can send free samples exclude the certain items. If you want special decoration or printing at package bottles, we can fast making samples in 7days
Perfume bottles play a key role in boosting perfume sales. We are a leading glass perfume bottle manufacturer in china, supplying high quality empty glass perfume bottles in a variety of designs.
Perfume bottles can be designed with a customized logo. Each bottle has a unique shape. The size of the bottle can be customized as well. We also supply perfume bottles with atomizer.
According to the statistics from our factory, some colors of perfume bottles are more popular than others, such as pink, gold, silver, blue, and yellow. And the usually needed bottle capacity ranges from 3ml, 7ml,7.5ml, 8ml, 10ml, 15ml, 20ml, 22ml, 30ml, 50ml to80ml 90ml, 100ml,500ml.
We have been specialized in perfume bottle manufacture over 10 years. Our bottles are mainly exported to Dubai, UK, Turkey, United States ,Philippines, India, etc. With our experienced professionals in this field, we believe we can lower your cost, but still provide better service.
Our bottles are highly break-resistant, and the sprayer always dispenses the right amount of perfume. Our surface processes include silk screen printing, painting, UV coating, UV engraving and frosting.
If you are looking for perfume bottles supplier that offers good quality and competitive price, you are in right place now. We will show some of our hot sale bottles as follows: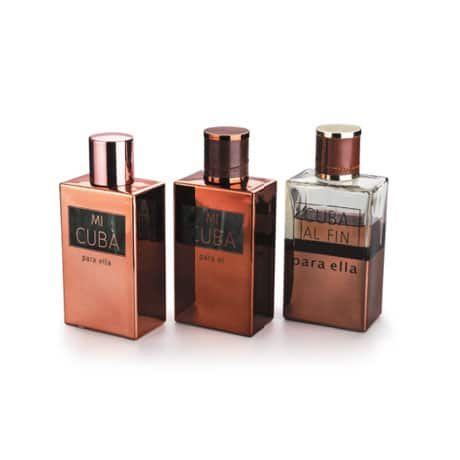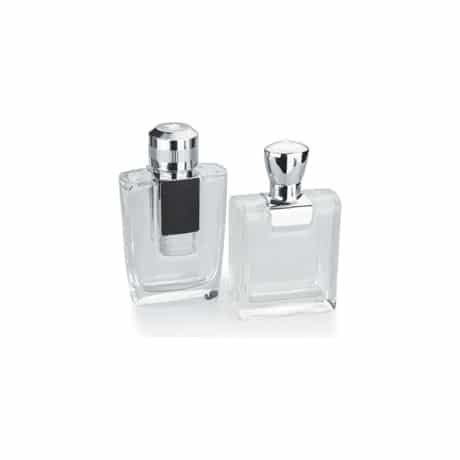 Popular Perfume Bottle Styles in the Market
With the progress of time come changes in people's tastes. This is why throughout the course of history, there have been various popular bottle shapes in the market, starting from as early as the 19th century until the era of the recent millennia.
In this chapter, we'll introduce you to the different bottle styles of olden and present times.
1.1 Perfume Bottle with Bulb
We have all seen the first version of perfume bottle sprays before, whether it is on our grandmother's boudoir, or when watching films. These cute little bottles are those with a small pump attached to them.
They are sometimes called puff perfume bottles, but these pumps are more properly called as atomizers, which is probably the first version of a spray bottle before the modern ones we are so used to seeing right now.
The purpose of this pump is to transform the liquid perfume into a fine mist so you won't have to pour a large stream of liquid onto your body, thus saving more of your favorite scent.
Be careful with a perfume bottle with bulb, though, because they are quite troublesome fellas. They often leak and when left on the boudoir can evaporate the perfume as the seals are not tight.
Conversely, some companies still produce perfume atomizers alone; if people would much rather prefer that. It is these small containers that you easily attach to the lid of your bottle so that it gets refilled—much like how a lighter fluid is injected into lighters—and then you're good to use it.
It's perfect for the brands of perfumes that only offer their scents in big spray bottles that you can't remove the top off of. Since the top is secured into the bottle, there's no way to transfer it into a smaller container, which is where these atomizers come in handy.
However, in all honesty, atomizers and spray nozzles work exactly the same anyway and would not affect the scent whatsoever.
1.2 Perfume Sprayer Bottle
Speaking of spray bottles, probably the most common design in the market right now is the perfume bottle spray, the subsequent of puff bottles.
It is probably because of the problems of puff bottles that we now have modern designs with a spray nozzle for a cap. It is a more innovative and compact design than its predecessor because the misting device is not a separate attachment from the bottle. The spray nozzle is, instead, a part of the bottle itself.
It even comes in various materials, sizes, and styles.
It also provides a better aim for where you want to apply the perfume, thus wasting only little amounts of the scent.
If you are taken with this type of bottles and your favorite scent comes in bottles that has an open lid and no sprayer, all you need to do is find the right perfume bottle extractor and move the liquid into a perfume bottle with atomizer.
The process of this isn't easy. It has to be very carefully, the same process as decanting old perfumes from their original bottles and into a new perfume bottle dispenser.
1.3

Roll-On Perfume Bottles
Roll-on bottles can be more commonly seen in sample scents, but some companies release their 30ml perfumes in roll-on bottles as well.
The materials used to make these types of bottles are various. There are glass or plastic bodies. The roller inserts and balls themselves can come in stainless steel, glass, or plastic, so if you prefer one type over another, you won't run out of options.
They are perfect for little homemade DIY perfumes or scented oils and for kids too! So they don't accidentally spray too much or spill perfumes all over themselves.
If your favorite scent doesn't come in roller bottles, you can just purchase an empty bottle and transfer your perfume into it. Some of the designs of this bottle are compact so they fit quite nicely in women's pouches or pockets, easily accessible for quick applications.
1.4 Portable Travel Perfume Bottle
And since we're already talking about compact bottle designs, let's focus on that.
A lot of the famous scents out there—most of them, actually—come in big, intricate bottles. The good news is that the companies that produces them also releases travel-sized version!
These tiny perfume bottles are usually roll-ons, but there are some that comes in spray bottles.
What's perfect about them is not only do they fit in pockets and purses, doesn't take up a lot of space, but they are also pretty inexpensive. Add to those is the fact that with these miniature perfume bottles, you won't waste a lot of liquid because you can target specifically where you want to apply the perfume.
Jo Malone, Marc Jacobs, and Gucci are some of the perfumeries that prefer the roller bottles for their scents. On the other hand, Chloe and Chanel prefer the travel spray bottles.
1.5 Egyptian Perfume Bottles
Now, you might not know this, but Egyptians are probably the first people who made a whole industry out of perfumes.
In 2004, archeologists unearthed an enormous perfume factory from 4,000 years ago. It is estimated to be 43,000 feet, indicating its industrial scale.
Also, the first ever recorded perfumer was an Egyptian woman named Taputti. Her name is mentioned in a Mesopotamian tablet from the second millennium BC, stating that she made perfumes from distilling flowers, oils, and other aromatics.
Their skills in the said industry do not end there, however, because they are also the pioneers in making bottles for keeping and holding the precious scented oils, out of sheer need to save it from evaporating into air when not stored in a container.
At first, their containers are made from stone and alabaster, until the 4th millennium BCE when they developed their own glass-blowing techniques for perfume bottles.
The glass they used still even baffles historians to this date as they cannot quite make out how these glasses are made. The only known materials are quartz, cobalt, plant ash, sand, rock salt, and copper, while the rest is a mystery.
From there, the first hand-blown glass vessels appeared in Egypt in the 2nd millennium BCE, and then that process is even more improved in the 19th century.
Presently, most Egyptian perfume bottles are blown using the most modern techniques. They keep this trade alive by making their designs available in Tour Egypt's Virtual Khan el-Khalili, which is a virtual tour of Egypt where they offer various products in their gift shop. Some even makes it available online and they ship it straight from Cairo itself.
Creative Perfume Bottle Shapes
If you think the ones mentioned above are already creative, then you should really see our next list, it's even more impressive.
Perfume bottles inspire a lot of things, and the first in this list is something that isn't specifically a perfume bottle, but is in a shape of one.
At one point while shopping for gadgets or gadget accessories, we have all come across phone cases in the shape of a perfume bottle, most likely a Chanel one, and women absolutely loves it.
One of the designs we commonly see in stores are the perfume bottles with a flower cap. It can even be considered a classic design at this point, as the flower represents the main ingredient of a perfume
Like the situation with phone cases in a shape of a perfume bottle, there are also bags, purses, or clutches that looks like a bottle of your favorite scent. Some of them are even made from glass-like materials to really embody that perfume look.
Aside from phone cases and purses, a furniture company also came up with a perfume bottle design with their lamps. The body is glass with a colorful liquid inside, and the shade on top looks like the cap of the bottle.
In the previous chapter, we have mentioned travel-sized bottles and that is already practical enough. However, if that still isn't what you're looking for, there are always perfume bottle necklaces. They are even more compact and can be hung on your neck for easier reach.
If perfume-bottle-shaped phone cases, purses, and lamps are not enough for you, we have one more—earrings! Unfortunately, though, they are not functional bottles that can hold liquid. But, hey, they look great.
While we're on the topic of accessories here, let us introduce you to perfume bottle high heels. The good news is that they are functional. Carolina Herrera actually releases their perfumes in high-heel-shaped bottles, so you can pick the scent that you like, and it would look sexy on your dressing table.
Now let us talk about novelty designs. It's not commonly seen in stores or online, but one fun design is probably the body-shaped bottles. There are even male and female versions, so you can really pick what fits your style. Kim Kardashian even released her KKW Body scent in these bottles designed after her own body.
If a whole body shape is too much for you, there is also a man-hand-shaped perfume bottle. Spritz and then fist-bump it for a good luck.
Perfume Bottle Materials
Perfume bottles can be made out of various materials. There is the most commonly used glass, but there are also plastic, aluminum, and acrylic. Read on to find the one that is perfect for your purpose and preferences.
3.1 Glass Perfume Bottle
As already mentioned above, most perfumes come in glass bottles. They can be totally clear and see through, opaque, frosted, or colored.
They are most commonly used because, aside from looking sophisticated, they don't affect the scent of the perfume inside in any way, whereas some other materials might.
Amongst the various styles to choose from, one of the most common is the straight-sided vessels—square when seen from the top and bottom, but rectangle when seen from the sides.
They have different holding capacities as well, which can be from 5ml, 10ml, 15ml, 20ml, and up to 100ml.
There are also round glass bottles. They are generally double-walled, meaning the outside walls are shaped quite differently from the inside walls, thus creating a sophisticated look. The outside shape can be oval with a flat bottom, so that it can stand—or a square even—while the inside is totally round like a wine glass to unlock the aromas of the scent inside.
Another version of a double-walled glass bottles are the thick-walled bottles. The insides don't have to be round in any way, but the vessel's walls are considerably thicker than normal. This doesn't provide much difference than other bottles except that it's sturdier and might not break easily when accidentally dropped.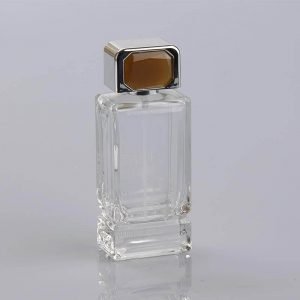 Now if you have a collection of various scented oils and just cannot remember which bottle you put in which scent, an amber glass bottle would be perfect for you. Aside from giving you a scientist vibe, a couple of it looks uniform on your shelf too, and it's plain so you can label it accordingly. It even comes with droppers, sprays, or a simple lid.
If you're one of the people who prefer the minimal style, there are still various designs of the basic glass bottles. They may come in any shape from rectangular to circular, any color from clear to black, and with any caps that might work for your preferences.
3.2 Plastic Perfume Bottle
Next to glass, plastic is the second most common material out there for making perfume bottles.
It is easier to shape than glass. The process can be done by using a mold or by fitting an aluminum sheet.
It is easier to paint with a coat of matte or glossy color, by using an airbrush or mixing the coloring agent to the plastic before it is molded and hardened.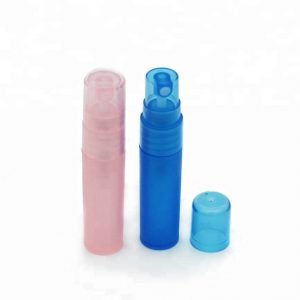 The labels can even be silkscreened to the surface.
Because of its lower malleability, making it easier to shape, and considerably lower price than glass, it is easier to mass-produce.
Aside from the already mentioned benefits, most plastics are also produced now as recyclables and are made with sustainable materials such as:
• PP plastic – more affordable than acrylic plastics and usually not clear.
• PET plastic – more affordable than PP plastics and better in impact resistance.
• Acrylic plastic – more high-end, resembles glass and less prone to breakage.
3.3 Aluminum Perfume Bottle
Plastics nowadays might be recyclable, but if going green is going primary concern, as all of us should be, there is a better option in the market right now, and that is aluminum perfume bottles.
Granted, a lot of people are scared to use this metallic material for any cosmetic use, so much so that the process of finding out if it is safe as a container is still in the works currently, for fear that some of its elements might leech off into the product.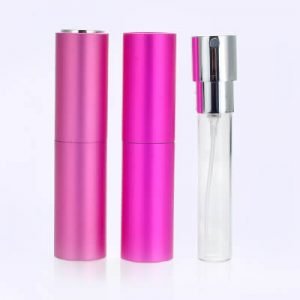 But aluminum has a lot of advantages over other materials.
• For one, aside from being helpful to the environment, it is considerably sturdier than plastic and glass.
• Any design made from it can come off as looking contemporary, chick.
• It is considerably lightweight, more so than glass and plastic, so carrying an aluminum bottle of perfume around in your purse would not have to be such a hassle.
• Aluminum allows for manufacturers to simplify their packaging because they can just engrave directly into the surface, therefore saving materials for labels and other details. It will considerably lower their manufacturing costs, too.
• Most importantly, this material can prolong the shelf life of your favorite scent by having a perfect lining. This lining is originally to make sure that the aluminum is safe and effective for use, but it also blocks any outside elements from coming in, and the precious liquid from coming out, thus allowing the product to last longer inside the container.
All of these benefits can be exploited as long as the process of making the aluminum container follows the correct safety guidelines.
There should also be enough information in the packaging for people to read how the product was manufactured, so they don't have to fear any kind of side-effect when spraying their favorite scent.
3.4 Acrylic Perfume Bottle
Acrylic plastic has already been mentioned above under plastic bottles, but let us just elaborate here more what benefits this material really have.
• Although a little more expensive PP and PET plastics, it is fairly more inexpensive than glass or aluminum.
• It is actually more lightweight than other plastics because it is made out of synthetic resins and textile fabrics.
• This material is durable synthetic, therefore safer to hold precious liquids because it won't shatter like glass does.
• Acrylic has a longer shelf life than other types of plastics, especially when stored in warm cabinets.
• Acrylics are typically clear, but can also be of a clouded pearl color, giving it a more luxurious look than usual plastics.
• It's safer than aluminum.
• Because of its malleability, it can come in various shapes, sizes, and styles.
• They can be air-tight and refillable.
• It looks similar to glass, which makes it appealing to a lot of consumers.
• Acrylic doesn't produce any residue, which other plastic might, so there wouldn't be any unknown flecks floating around the perfume inside that can potentially get into the spritzer hose and clog it.
Perfume Bottle Capacity
Perfume manufacturers release their scents in a variety of vessel sizes so that it's easy for consumers to find their preferred size.
Some would like mini perfume bottles to keep in their purse, and some like the big perfume bottles to keep in their dressers.
No matter your preferences are, there's always an available one for you.
In the US, they are measured in fluid ounces (fl. oz.), which shouldn't be mistaken for UK fluid ounces, which is a different measurement. Then there are also milliliters.
The differences between UK and US are in their milliliter conversions.
A 3.4 US fl oz is 100.55 ml, while a 3.4 UK fl oz is only 96.60 ml.
So you would have to really keep an eye out for those measurements before you put that bottle in your cart.
If there isn't a UK or US indicated before the measurement, it is safe to assume that it's US if you're buying from North America, and UK when buying from around that area.
Anyway, since most countries are using the metric system, it's most common to see the amount in milliliters instead.
The most common perfume sizes in the market right now are the following:
• 5ml – This is one of the small perfume bottles and used mostly on sample scents. It's as tall as the average thumb.
• 8ml – Same as the one above, 8ml is mostly for sample scents.
• 10ml – Still compact and very easy to keep in your purse.
• 15ml – This size is as tall as the thickness of four fingers. It might be big for small purses, but would easily fit on a medium-sized bag.
• 20ml – Now the 20ml bottle is as tall as an average palm sideways, and it's very easy to grip.
• 30ml – Dolce and Gabbana's scent, "The One," comes in this size.
• 50ml – Coco Chanel's perfumes comes mostly in 50ml bottles. It seems to be their average size.
• 60ml – Dior's "Sauvage" in which Johnny Depp is the image of comes in a 60ml bottle.
• 75ml – This is the threshold size of the bottles we keep in our dressers because they are either hefty in height, or just wouldn't fit in average purses.
• 100ml – This is the mainstream size and probably the most common all over the markets.
These are all the sizes that you can choose from. Now if you're looking to answer the question, "which size is the best to buy?" That would totally depend on how you intend to use the perfume.
Would you like to keep it in your purse? Then the smaller bottles are for you.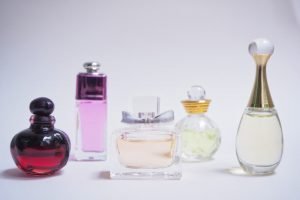 Would it be okay for you to leave it at home? Then the 75ml and above bottles are for you.
Are you going to carry the perfume into an airplane? Then it's probably safe to stick to less than 100ml bottles.
Are you just trying out this new scent that you're not sure if you're going to like or would blend well with your natural scent? Then purchase the smaller vials first.
For any purpose you might need the perfume for, there's always the perfect size for you.
Toppack Perfume Bottle Solution
Speaking of the perfect bottle sizes and designs, at Toppack, we already have them ready at the store for you.
We are a professional perfume bottle manufacturer in China that sells perfume bottles in bulk or individuals to meet your demand.
A lot of care and consideration goes into making these blank perfume bottles so you can be confident that we don't just do it halfheartedly. We take this art very seriously, which is why we are one of the leading perfume bottle suppliers in the country.
Our professional artists manufacture glass bottles, plastic bottles, aluminum bottles, and acrylic bottles while closely following the proper safety and effectiveness guidelines. It's the least we can do to make sure that you receive only the best.
If what you're looking for is not in our catalogue, don't worry because we are custom perfume bottles manufacturers too. We will prepare the perfume bottle 3D model for your chosen design at no extra cost.
If you're looking for a unique giveaway for a corporate party or birthday celebration, we have the answer to that as well. A perfume that would remind each guest of you might just be the perfect gift. We can make it even more personal with custom cologne bottles so you will always be remembered when they take a whiff of that scent.
Whether you're looking for simple, elegant, or detailed designs, we've got you covered!